A popular excursion along the beautiful River Dove to its famous Stepping Stones at the foot of Thorpe Cloud.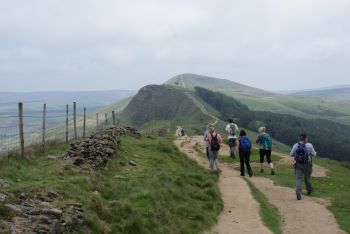 Access for All
Distance: 640 m to the stepping stones
Nearest Facilities: Dovedale Car Park and Izaak Walton Hotel
Directions
At the car park entrance, take the road marked by a vehicle restriction sign
Follow the river to the Stepping Stones.
Alternative
Elevated views from the Izaak Walton Hotel.
Getting there
Start at Dovedale Car Park via Thorpe and the A515.
Ordnance Survey grid reference: SK 1465 5095
Postcode: DE6 2AY
Do you know?
The Peak District's best-known dale and its 'Princess of Rivers' was first made famous for its fishing by writers Izaak Walton and Charles Cotton in 1653.
Dovedale's picturesque scenery was popularised by the Romantic Movement and its fame established by railway tourism and guided donkey trips from the Stepping Stones.
In the 1930's, a campaign was launched to make Dovedale Britain's first National Park.