Would you like to receive like to hear from us from time to time with exclusive offers and all the latest news from the Stanage North Lees estate, our accommodation options in the area and the work of Peak District National Park? It only takes a few moments and your preferences can be customised.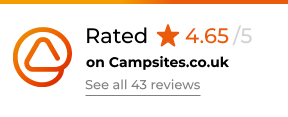 Looking for a get-away-from-it-all camping experience?
Enjoy peace and quiet at North Lees campsite and wake up to bird-song, Stanage Edge and the great outdoors.
North Lees is located in a sheltered valley, 1.5 miles north of Hathersage. It is within short walking distance of numerous world-class climbing, bouldering, cycling, and walking routes plus fantastic seasonal bird and wildlife watching opportunities.
North Lees campsite is an ideal base for those seeking quiet outdoor recreation in stunning surroundings and for visitors wishing to explore the Peak District National Park. The nearby woodlands, farmland and moorland are managed for conservation and form part of the Stanage-North Lees estate which we manage.
How do I book?
You can book your pitch online using the table below. If you are a group larger than five people please email northlees.campsite@peakdistrict.gov.uk.
Please note: If a date is grey, this means we are fully booked.
Important Information: Car Parking at our site is limited. If during the booking process you are not offered the option of "Grass pitch with reserved parking (Bay …)" it means we have no more parking space available on site for your chosen dates.
When you book please be aware that we are an open plan campsite. The "site" that you book allows you to pitch your tent anywhere on our grass fields. Visitors are not allowed to drive vehicles (cars, motorbikes, campervans, etc) on to the grass. To bring a vehicle you must book a pitch with reserved parking and park in your pre-allocated parking bay.
If you don't want the hassle of carrying and putting up a tent, you can also book one of our camping pods online.
Booking ahead of time is preferable during the summer, especially on holiday weekends.
Something a bit special: Cattis-side Cottage
If you've visited us before and had a great time, but are looking for a few extra home comforts or arranging a special getaway treat next time, we can now offer Cattiside Cottage. Just moments away from North Lees campsite itself and nestled privately in the adjacent hill, Cattiside is a newly-renovated, two-bedroomed self-catering opportunity. Comfortable and contemporary interiors still have plenty to share with original period features with unrivalled views into the neighbouring hills and woodlands.
Find out more and check booking availability for Cattis-side Cottage today.
What are your camping fees?
Please note, a surcharge of £2 per guest will apply on all Friday, Saturday, and Sunday nights over a Bank Holiday weekend.
Under 18's must be accompanied by a responsible adult.
There are additional fees for cars, minibuses and motorcycles.
See the full price list.
Opening times
We are open every day except 23 December (open in the morning), Christmas Eve, Christmas Day and Boxing Day.
Campsite facilities
A fully-equipped shower block with separate men's and women's showers and toilets.
We also offer a dedicated disabled toilet and shower facility (accompanying our accessible pod)
A covered, exterior washing-up area and recycling bins are provided throughout the site.
Wheelbarrows are provided to allow guests to take larger quantities of equipment from their vehicles into the camping areas.
Our reception area has ice creams, a variety of cold drinks and useful items to purchase such as maps and guidebooks, gifts, along with a selection of small camping sundries.
Please note: we do not permit charcoal barbecues or open fires. This includes single-use barbeques. This is to reduce fire risk to fragile surrounding habitats and wildlife areas.
What does the site look like?
At North Lees campsite you really will feel like you are in the Peak District National Park.
The site consists of three gently sloping fields with car parking spaces that separate the camping area, but still easily accessible. North Lees is ideally suited to small tents and there is limited space on site for large tents and Gazebos/event shelters which attract a £15 surcharge per stay which is added during the booking process.
I have a camper van, can I still come?
North Lees campsite does not provide hard-standing or electric hook-ups for camper vans. Anyone sleeping in a vehicle on site must park in one of the car parking spaces and will be charged per person, per vehicle. However, depending on availability we may have limited camper van spots that are slightly separated from the main parking area.
What kind of supplies do I need?
North Lees campsite prides itself on its isolation and secluded location. As such please be aware that the nearest shops are in Hathersage (1.5 miles south) which is a short walk or drive away.
How to do I get there?
The campsite is accessible by public transport, although that will include a 30 minute walk.
North Lees Campsite
Birley Lane
Hathersage
Hope Valley
Derbyshire
S32 1DY
Grid reference: SK235832
Latitude: 53.345267
Longitude: -1.64821
Easting: 423518.015
Northing: 383210.086'
What3Words
What3Words makes locations more accessible when a post code isn't accurate enough.
To navigate directly to the campsite click this link or use our 3 word address which is: supply.rinse.angel
By bus
The 272 bus service from Sheffield stops in the centre of Hathersage. You can walk to the campsite from Hathersage (see walking directions below).
By train
The Hope Valley train stops at Hathersage Station (Manchester to Sheffield service). The National Rail Enquiry number is 08457 48 49 50.
On foot from Hathersage
It is a gentle 30-minute walk to the campsite from Hathersage. In the centre of Hathersage, take the public footpath that starts on Baulk Lane, next to the Alpkit shop. At the end of the footpath, turn right onto Birley Lane and after passing Bronte Cottage and the drive to North Lees Hall (both on the left), you will reach the entrance to North Lees Campsite (also on the left).
By car from Hathersage
In the centre of Hathersage, (with the George Hotel on your right), turn right off the main road into Jaggers Lane. Take the next right into Coggers Lane and follow the lane up the hill for approximately 1 mile before turning right into Birley Lane. The campsite is 1 mile from this junction on the left-hand side and is signposted on the gate.
Contact us
For any questions please contact North Lees campsite...
Please be aware that due to the secluded nature of North Lees campsite, mobile phone services may be unreliable.
Read our full Terms and Conditions
We look forward to welcoming you to North Lees campsite!